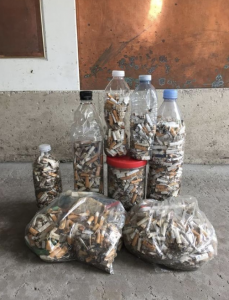 This week's post is inspired by PickWaste's most recent clean-up, which took place on Saturday, July 28th. At this clean-up, Sam, Dillon and their volunteers collected 4483 cigarette butts in just one hour! Can you believe this? The fact that there are so many tiny pieces of litter lying around in one space is just mind-blowing to me. Imagine how many pieces would be collected if there was more time or more volunteers? The amount of litter we see today sure says a lot about our behaviour and lack of respect for the planet.
Today we are going to chat about cigarettes, and how the dangerous habit of smoking can affect not only human health but the environment itself.
So, cigarettes. They're probably one of the most easily identifiable objects in the world. After all, there are currently 1.1 billion smokers in the world; this number is expected to rise to 1.6 billion by 2025.
We see cigarettes covering the ground wherever we go, stuck in the cracks of the sidewalk, tangled in the roots of a tree, sprinkled across a smoker's driveway. Smoking is not only damaging for our body (damaging our lungs, teeth, throat and causing cancer), but it is also just as toxic to the planet. Just from how many cigarette butts were collected during the clean-up, we can see that there is a lot of waste in the form of cigarettes that is harming our beautiful planet. In fact, cigarettes are accountable for 38 percent of all litter in the United States alone! In 2009, 1,362,741 cigarette butts were collected from waterways in the United States, while the Great Canadian Shoreline Clean-up collected 244,734 butts in 2017. When you add up all of the years that these clean-ups have occurred, that's millions of cigarette butts picked up, but millions are still lying around on the ground. It is estimated that 4.5 trillion cigarette butts are discarded every single year!
Perhaps you have looked down at a cigarette on the sidewalk and considered the environmental impacts that little piece could cause. Or, maybe you haven't. In either case, I am going to enlighten you on just how environmentally damaging this pesky human habit can be. The first time I really stopped to think about how bad these chemical-rich pieces of litter can be, I was doing a yard clean-up at my high school in grade twelve. My high school was built in the middle of a forest, so students would hang out in the dense tree covering to smoke, away from the peering eyes of teachers. In these hiding spots, I found so. Many. Cigarettes. Despite being all over the place, we often overlook just how much waste comes from cigarettes. For instance, you walk past a cigarette on the street and don't think twice about it, but if you see a plastic bag floating around or a newspaper on the sidewalk you are likely more inclined to scoop those items up and throw them away. Additionally, you can see parents telling their young children not to touch cigarettes, because they've been in someone else's mouth before. Totally understandable, but we need to get over the fear of "germs" and clean up. I'll explain how important it is to do so below.
I have put together a list of ten facts about cigarette waste to educate you on the environmentally and socially damaging effects of smoking. These facts will make you want to go out and pick this toxic litter up, or you will want to share this post with friends or family that smoke to discourage them from the destructive habit.
Without further ado, let's get on to the ugly truth about one of the world's most common and dangerous habits: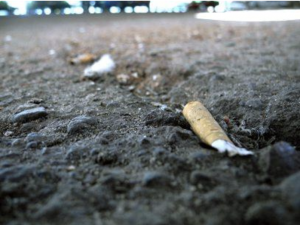 Source: The Mining Gazette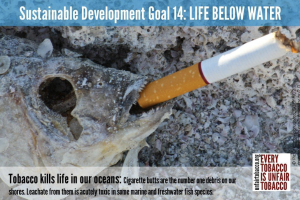 A young girl working at a tobacco plantation. Source: Human Rights Watch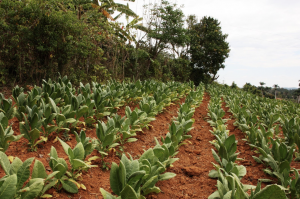 A tobacco plantation. Source: Wiki Commons
As you can see, cigarettes are not just a problem to our physical health They negatively affect the entire planet, from our polluted water systems, to our degrading atmosphere, to all of the living organisms walking the earth that face extinction today. Who would've thought that such a simple, everyday habit would be so destructive?
Thankfully, governments have started acting against cigarette litter and improving the disposal of these toxic items. In Toronto, officials are working to improve waste disposal signage on public waste bins, and have kickstarted a cigarette butt collection project in partnership with a recycling company called Terracycle. This project uses collected cigarette butts to create functional plastic by melting down the collected items; the leftover tobacco and ash can then be composted. Vancouver is looking to develop a cigarette depositing system: for every cigarette in a pack that you purchase, you deposit five cents. Let's say you have a pack of twelve cigarettes: you will be required to pay a deposit of sixty cents, on top of the price of the pack. Returning the cigarette butts to the store allows you to reclaim your deposit, meanwhile ensuring that the cigarettes are disposed of properly. Across the border, the United States has spent an estimated 11.5 billion dollars on abatement initiatives and clean-ups. Overseas, Thailand has implemented a ban on smoking and littering the cigarette butts on public beaches; those who are caught disobeyed the law can face a hefty fine. Around the world, tobacco control advocates are working with plantations to ensure better treatment of the workers and report any human rights violations. All in all, leaders around the world are working to combat the damaging effects created by this daily habit that over a billion people partake in.
Of course, the most effective way to prevent damage to our is to stop smoking once and for all. It's easier said than done, which I understand. However, we need to look to the future and decide what sort of place we want the planet to be for our future generations. Do we want a happy, healthy, thriving planet for our grandchildren's grandchildren, where they don't have to worry about access to fresh water, clean air or fresh food? Or do we want a smoggy, polluted world filled with wars over resources (we already have those now…), a world where our grandchildren won't know what a giraffe or elephant or bumble bee are? I think that the answer is clear. To get to the future place that we want, we need to start taking small consistent actions to preserve the planet's health. This includes picking up litter like cigarette butts, joining in on city-wide cleanups, signing petitions to ban smoking in certain public areas like parks and beaches, or smoking one less cigarette every day. All of these actions, however small they may seem, will add up to make a huge impact. So, what are you waiting for? It's time to take action.
Until next time!