Reading Time:
6
min
Happy Wednesday, everyone! Jenna here, and I cannot believe that we're already halfway through August! With school looming just around the corner, you've probably started getting ready for the year ahead. If it's your first time heading off to university or college, I bet that you're feeling very excited and nervous right about now! If you're a returning student like myself, you're probably looking forward to seeing your friends and making plenty of great memories. This year is the first year that I'll be living off campus. With that in mind, I have been very aware of my ecological footprint as I purchase items and pack for the move to my apartment.
This post is for anyone heading off to post-secondary school this fall who wishes to live an eco-friendly, low-waste lifestyle. I have news for you: you can live sustainably while having an amazing post-secondary experience, all it takes is some creativity! Don't worry, I've provided you with some great ideas for living green while away from home, all of which are student-budget friendly! Here are my top ten tips for living eco-friendly while you're moving off away to school!
1) Purchase Notebooks Made of Recycled Paper
If these are too expensive, look for FSC or SFI certified paper. This ensures that you'll be writing your notes on responsibly-sourced paper that isn't cutting down old-growth rainforests in the process.
2) Buy Household Products with Minimal Packaging
While this is easier to do with some items than others, most of the packaging covering our products is completely unnecessary. For instance, you don't need to buy a spatula inside of a box, or cutlery that is wrapped up in plastic. You should be washing these tools before you use them, anyway, so this extra protection isn't needed. The only packaging on the utensils and kitchen tools I've purchased for my apartment are the price tags.
3) Recycle Old Household Supplies
We just did a major kitchen renovation, so it was time to replace a lot of our old appliances, dish cloths, tools, etc. This means that I get them all for my apartment! Instead of opting to purchase all new things for your dorm or apartment, take a look around your home. See if there are any extra items that you can bring to school. You can probably find a few mugs lying around or take a couple of forks/knives/spoons if you have extras. You can also check out your local thrift store or a garage sale. They have so many amazing household items for great prices! As the saying goes, one man's trash is another man's treasure. I bet that you never realized that finding this "treasure" is also an eco-friendly alternative to shopping!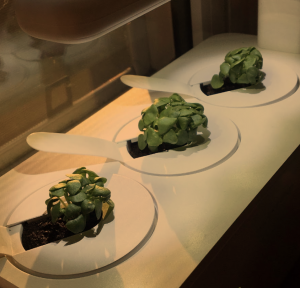 My baby basil plants a few months ago. Now they're huge!
4) Add Some Life to Your Room and Grow Plants!
Not only are they aesthetically pleasing, studies show that growing plants in your room have proven mood-boosting effects, improve productivity and can help you recover faster from illness. In addition, if you grow herbs like basil or oregano you can use them for cooking year-round, cutting down on grocery bills and avoiding you from shopping out of season.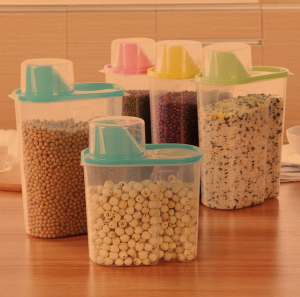 Source: Ali Express
5) Bring Empty Containers to Use for Bulk Foods like: Cereal, Grains, Pasta, etc.
You can fill these up at most bulk food stores now for no extra fee (sometimes you can even get a discount!) You save so much packaging from doing this, because trust me, I ate A LOT of snack foods during my first year. Reusable containers allow you to always have these items on hand without having to worry about the waste you create from excess packaging. One of the things that really annoy me is the fact that cereal comes in a plastic bag, inside of a cardboard box. Why?!
6) Take public transit
One of the benefits of being a student is that (most) schools provide you with free public transit! Waterloo doesn't have a subway system like Toronto, but the bus system goes pretty much everywhere in the 'loo. Technically you do pay for public transit in your student fees, but that's beside the point. The point is, public transit is a much greener option than driving your own car (and much less expensive)! Of course, the best option would be to walk whenever possible, but especially when doing groceries this isn't always practical.
7) Buy used textbooks
Waterloo has an awesome Facebook Marketplace page set up where you can find thousands of different books for sale. I purchased almost all of my books from here last year, and I've already made a deal on the Marketplace to pick up one of my fall term textbooks in September. This is how it works: students post an ad for their used textbooks in the Marketplace, and another student can message them to ask questions or settle a deal. You arrange to meet up with the student somewhere on campus and pay cash or e-transfer. Quick and easy. No, there's no shady business in this. I have purchased books that would have cost over 200 dollars new for less than 100 dollars. The books are always in great condition, too. Even if you don't want to pay as much for a book, you can always try talking down the price with the seller. The best thing about this is that you can resell your textbooks on the Marketplace after you are done with them! Alternatively, Waterloo also have a student-run used bookstore on campus that runs like a consignment store. Most schools have either a Marketplace page or some sort of book selling program, so I encourage you to do a bit of research! Talk about recycling and getting the most out of an item.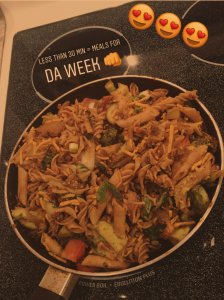 Quick and easy meals = life.
8) Meal Prep
Not only do you save a lot of waste from food wrappers and to-go containers by prepping meals for the week, but you also save a lot of money! Buying meals out all the time can get really expensive, and that is not practical for a student on a budget (Starbucks iced coffees killed my wallet last term…) Make a big batch of a dish that you like on a weekend, or use leftovers from dinner one night. If you have a meal hall/cafeteria, see if you can take extra food and pack it away in a reusable container for the next day. This is what I did all last year while staying in residence. Instead of ordering a pizza every other night, try throwing a pizza making party with your friends! Because I planned and packed smart, I didn't have to purchase a meal on campus once! No, Starbucks coffee doesn't count (at least to me!) I probably saved hundreds of dollars from leaving my pocket and prevented dozens of takeout containers from ending up in a landfill somewhere.
9) Buy a small white board
When it gets close to exam time, you'll be going through paper after paper of practice questions. Especially in the science or math courses, one question can take pages of work to answer or prove. A great way to cut down the amount of paper you use is to buy a small whiteboard! You can brainstorm ideas on this board, and when you're done just erase it and start again. You can get different coloured markers to make your studying fun, too! A few dollars spent on one whiteboard that will last for years is much more affordable than buying stacks of paper or notebooks every term, too.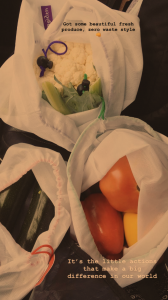 10) Bring Reusable Bags or Baskets to the Grocery Store
If you don't know my opinion on plastic bags based on my previous posts yet, I'll tell you now: plastic sucks. It's killing our marine life, poisoning our waters and causing so much irrevocable damage. Not to mention, plastic bags are so flimsy that they'd tear before you can even carry your groceries back to your apartment. Purchase a few reusable cloth bags to make your shopping trips less risky and to save our oceans from plastic. Now that plastic bags cost 5 cents each, you'll save a lot of money in the long run. You can get a matching set of bags if you want, or have certain patterns for certain stores/food items. It's easy to make saving the planet fun!
This is such an exciting time of year, but also a stressful time. That being said, I do not think we should compromise the planet's health when we could very well live a sustainable lifestyle as we move away from home. These tips are all very easy (plus affordable!) to incorporate into your current lifestyle. In fact, you could probably implement some of them before you even move away! That would make the transition at school all the easier.
As always, thank you so much for reading, and I hope that this post has given you a few ideas for making a positive change in all aspects of your life.