HOW DO WE CHANGE THE WORLD?
PickWaste picks up litter for one hour once a week, but our efforts to change the world do not stop there. In a nutshell, we have 3 main tasks: voluntary cleanups, presentations/speaking, and Corporate Social Responsibility events. We educate, inspire and provide people with tangible actions that they can implement in their personal lives to make a real, lasting change. Click the images for more info!!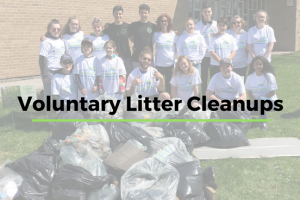 PickWaste was built to make a positive change in our community, and eventually the world. It began on July 1st when Dillon, Sam and two friends went out one early Saturday morning to pick up litter along the shore of a beach. After that initial cleanup, they decided that the weekly cleanups must continue. Now they meet up to clean up for one hour, once a week. Since their inception they have completed 47 cleanups, filling over 550 bags of litter. We currently have volunteer teams in two cities: Pickering and Scarborough. 
We always stress the fact that picking up litter is one of the best ways to raise awareness about the pollution problem, but is not a substitute for the end solution. If we pick up litter and people continue to throw their trash on the ground it defeats the purpose. The only solution is an overall reduction. The end goal is to raise enough awareness through picking up trash that people begin to change their consumer habits which will force corporations to stop producing products that are destroying our home. If you would like to volunteer with us or start your own chapter in your city please sign up here.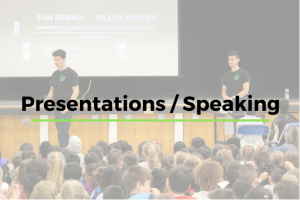 Education is a huge aspect of solving this global issue. It is great to get people outside picking up litter, but if you don't understand why it is important to respect our environment, then we will not be able to inform others to achieve that global mindset shift. This is precisely why we have created an extremely passionate and practical presentation for all audiences.
We present at schools (Elementary/Secondary/Post Secondary), Companies, Conferences, and Camps. To date, we have delivered 20 presentations to happy clients. To view our speaking package click here!
We talk about: the origin story, the power of small consistent actions to change the world, the connection between human health and the condition of the environment, tangible actions that can be implemented right now to reduce your environmental footprint, and how anyone can start their own passion project. Here is our speaking package. If you would like to book Sam & Dillon to speak at your event please fill out this form.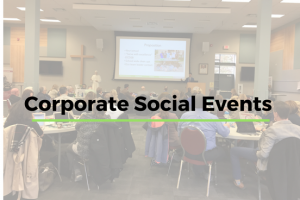 Corporate Social events are something PickWaste will be implementing this summer. In the effort to make local companies more sustainable and environmental conscious we will be offering them an amazing team building experience. 
We want to redefine what it means to be socially responsible by bringing out companies into their city and hosting large cleanup events. The event will include a 15-30 minute presentation by Dillon & Sam, a large litter cleanup, food catered at zero-waste, music and a professional video of the entire event. To view our CSR package click here!
The events will help to fund all the cleanup crews and our efforts to continue to scale this initiative. PickWaste is run by youth, Sam & Dillon are only 18 years of age. Therefore, it is an opportunity for companies to invest in the future of tomorrow – youth! If you would like more information on CSR events please read this package.