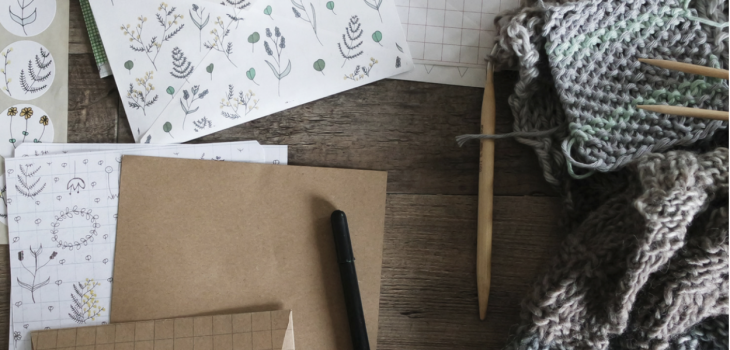 Hello everyone, it's Jenna! I am back to share a fun, DIY post to help you live a lower waste lifestyle without having to change your daily habits.
I'll be sharing six crafty ways to recycle and reuse materials from around your home that you likely throw out without thinking twice. While going zero-waste by purchasing a reusable water bottle, packing lunches in a reusable container instead of constantly eating out, or purchasing portable cutlery are the ideal choices, sometimes waste is unavoidable.
Empty yogurt containers, old CDs/DVDs, aluminium foil—items like these are always in our homes, yet we don't know how to reuse them or never think about reusing them. You may think that it is tricky to avoid waste when using these everyday products, but worry not! Below I have provided you with easy ways to reduce your waste while still using your everyday products.
Yogurt, margarine/plastic containers  
These containers come in all shapes and sizes, and can be turned into really unique crafts! You can wrap a container in paper and draw on it, paint on it, or even use old magazine clippings or shards of clay/glass to make cool mosaic designs. A newly decorated container is perfect for holding pencils, utensils, or even as a flower pot. Before I had my reusable cold cup for Starbucks, I would use their plastic cups to hold makeup brushes, pencils and jewelry.
Plastic containers are also great staples for the artsy people out there: in my high school art class, we had a bunch of yogurt containers at the back of the room that we'd use for mixing paints, rinsing our brushes, and preparing clay. They're easy crafts to make for young kids, and also can make really nice gifts! Your eco-conscious friends will definitely appreciate the repurposed materials.
Source: Ivy Lily Creative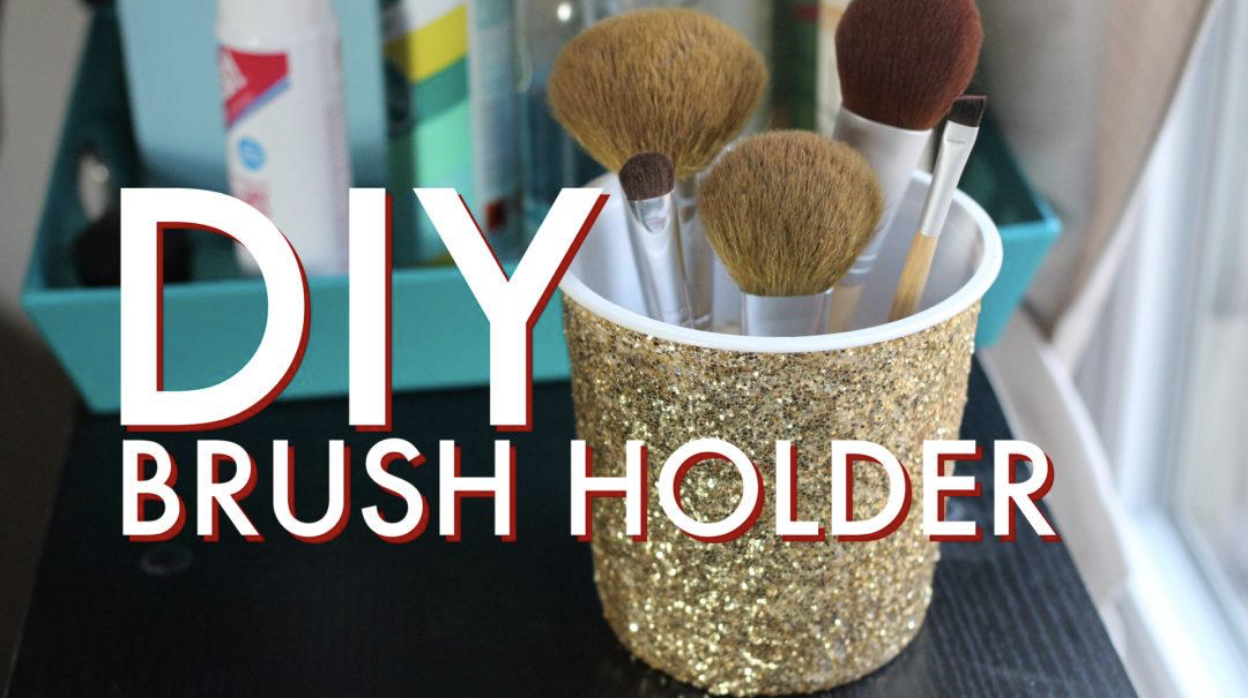 Source: Modern Martha
If you don't want to use them for crafts, you can always use the containers to freeze foods that you prepare in large batches. Whenever I make a soup, curry or chili I always put the leftovers in these containers, label them, and freeze them for months at a time. Once they're emptied, I just wash and reuse again and again!
We're told to have a good stock of non-perishable food items in our pantry. You never know when a big snow storm will hit, or when the power will go out, right? That's what I've been told, anyway. There are so many canned foods, from vegetables to fruits to beans to soups to meats; you can find pretty much every food in a can. They're affordable and last for years, making them accessible even to low-income families. Despite how useful they are, they can create a lot of waste.
Like the plastic containers, they make great crafts, and act as sturdier pencil holders and flower pots than their plastic counterparts. In addition,you can make some awesome home décor with them: use a sharp tool like a knife or a screwdriver to poke holes into the cans, and you have candle holders!
You can use a marker to draw out your design before you punch in the holes, or go at it free hand. For some great tips on how to make these safely, check out this tutorial. If you want, you can paint the cans to match your other décor!
You could also try making something more out of the box: this really cool tutorial shows you how to make a transportable cutlery holder, which looks awesome! Lastly, in this tutorial they use tin cans to make beautiful Christmas tree ornaments! Clearly, there are so many great ways to reuse cans that you probably have just been throwing out for years!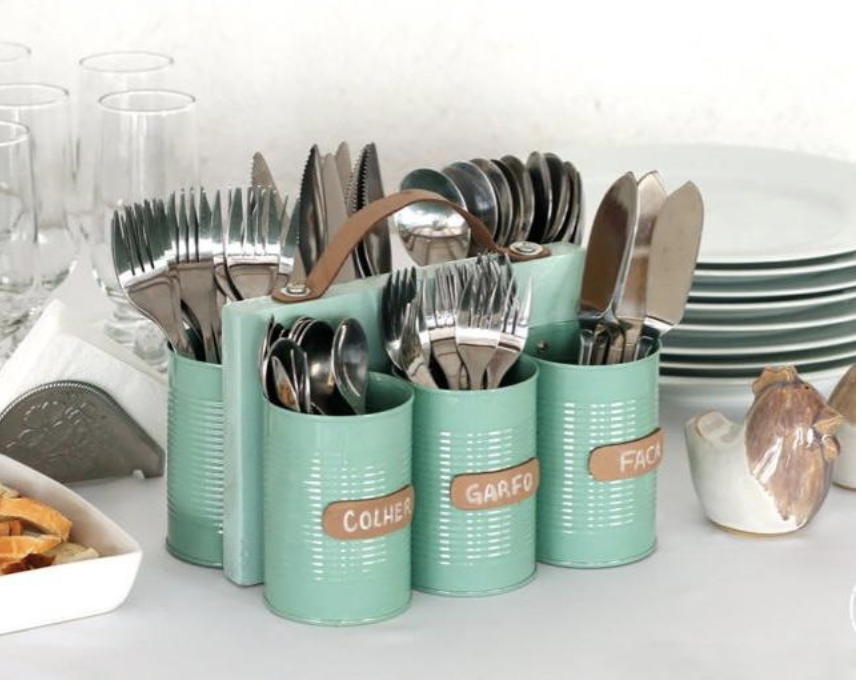 Source: Handimania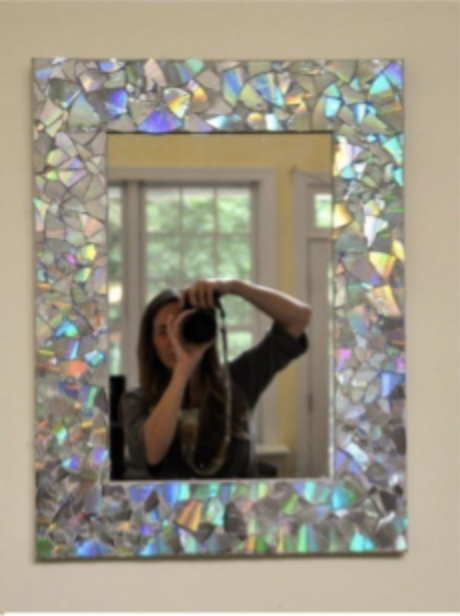 As Netflix, YouTube, Spotify and other online streaming platforms take over, CDs and DVDs are shrinking in popularity. You probably have a whole collection of CDs and DVDs lying around that you'll never use again— or so you thought! There are so many great ways that you can repurpose your old entertainment items!
One thing I really want to try is making this CD mirror. This very simple craft only requires a mirror with a large border and old CDs! Just break the CDs into tiny pieces (in a safe way!) and glue them on to the border to make an interesting mosaic pattern. Who needs to spend a hundred dollars on a fancy mirror when you can make one all on your own?
Another décor item that you don't need to waste money on because you can make them out of old CDs/DVDs are drink coasters. Discs, glue and a nice paper are all you need for this craft. You could even use old wrapping paper from gifts to repurpose even more materials that are lying around your house! Since these are so customizable, gone are the days of scouring the store to find that perfect matching set of drink coasters. You can make them all on your own now! This is yet another perfect gift idea.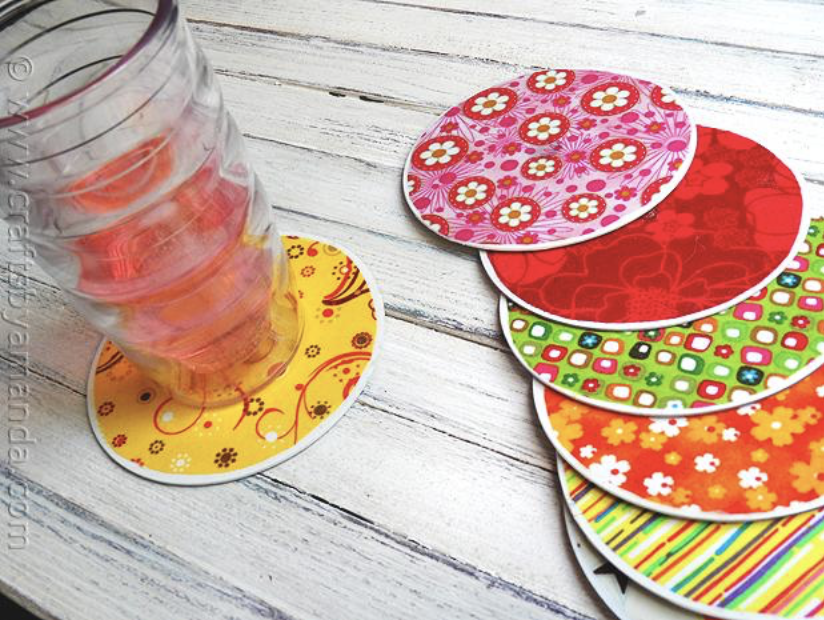 Source: Crafts by Amanda
Discs also make fantastic tools for artists, specifically painters. The back of a disc acts as a perfect palette for mixing paints! You don't need to purchase one of those clunky ones at the art store when you have a perfect, washable one at home.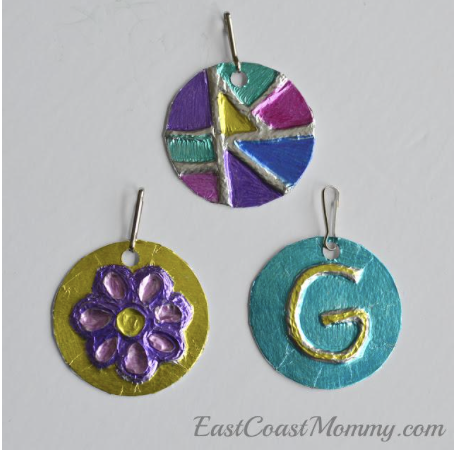 Aluminium foil is a common and useful product in the kitchen, but we often throw it out after just one use. Instead of throwing it out, save it to make foil art! I made this in class before, and it is a unique, fun but slightly challenging way to create some interesting pieces.
You just need the foil, glue, old cardboard from something like a cereal box (yay, more repurposing!) and permanent markers. This tutorial breaks down the steps for you. Pendants are also an easy, interesting craft that you can make with the same materials. Feel like adding some cool, rustic looking décor to your house? Try making foil flowers! They'll never wilt, and are a great centrepiece for your table or mantle.
Despite many of us now reading our news online, millions of newspapers are still printed every single day. There are some handy ways to reuse newspapers to create as little waste as possible. One way, which is perfect for this time of year since it's all about spending our summer nights outdoors, is to shred it up and use it as campfire or fireplace fuel. It's much better than chopping down trees (considering trees were already chopped down to make the newspaper). Just roll up a few pieces of newspaper and enjoy a toasty fire!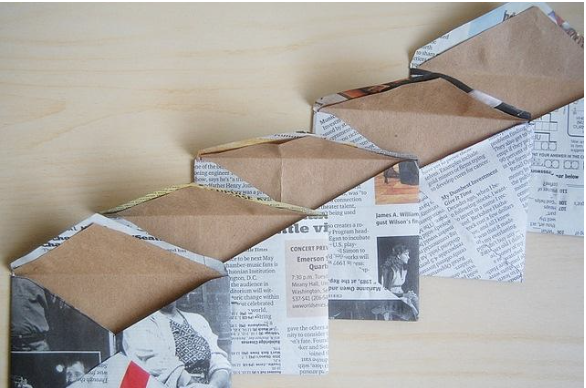 An idea that I definitely want to try out is making envelopes out of newspaper! I always feel a bit guilty purchasing cards and then using envelopes, knowing that I'm just wrapping paper in more paper that will soon be discarded. This overcomes that problem, and makes for an interesting design that doesn't cost you at least six dollars like most cards do. To go with your envelope, you can make newspaper gift bags!
Another idea which I made when I was little are newspaper bookmarks. This tutorial doesn't use newspaper, but you can follow the same steps with newspaper pieces to make one. These have a vintage look to them and make nice gifts. I once made a big batch of them and gave them out to my mother, grandmother and friends. You can add decals like buttons, feathers and jewels to them, or even paint overtop of them with watercolours to make pretty designs.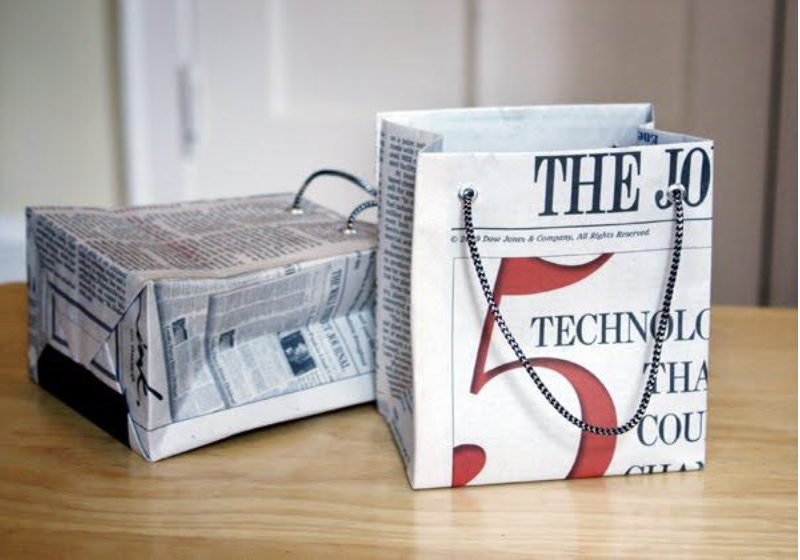 Source: How About Orange
Glass jars are one of my favourite things to reuse. This sounds lame, but I get so excited when I finish a jar of nut butter or jam and have a new jar to use! You can use them to store food, make smoothies in, make overnight oats, pack lunches, or even store your own homemade jams and butters. They're perfect to use for tableware; I love using my mason jar for drinking water and tea out of. Since it's very easy to find jars that look the same, you can have a set of matching drinking glasses without paying an extra cent!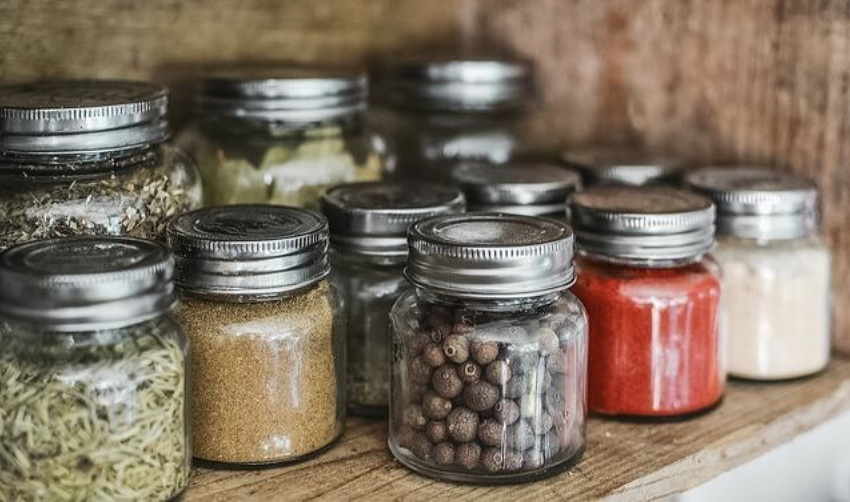 Source: Budget Dumpster
Jars are also perfect for storing things like uncooked grains, pasta, cereal and seeds. I switched from plastic bags to jars for storing these goods a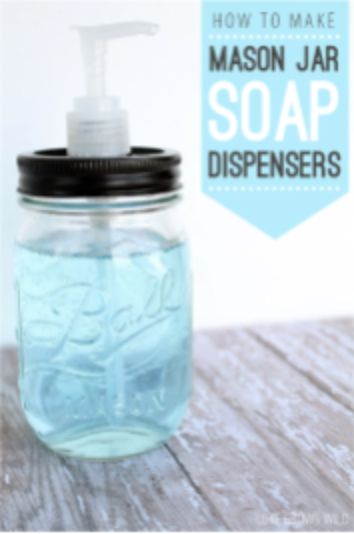 long time ago, making this not only an eco-friendly switch but also an aesthetically-pleasing one. Who doesn't like their cupboards to look cute with a whole row of mason jars in them? When I see them I feel like one of those cooking show hosts that broadcast from their kitchen (don't judge me)…

Glass jars are great for planters; some companies even sell mason jar herb gardens! Why spend twenty five dollars on one made in stores when you already have the tools you need to make one at home? All you need are the seeds.
This vintage-looking design turns an old mason jar into a soap dispenser, how cool is that? How about making a snow globe with your old mason jar? This list of ideas shows the many ways you can transform your mason jars into beautiful outdoor lighting sets, too. No matter what you choose to do, I don't think there is any reason to throw out a glass jar. They have so much potential!
That is all for this week's post. I hope that you enjoyed this DIY-style blog post. I always love finding ways to repurpose old materials around the house, and perhaps you will, too, if you try out some of these ideas! If you try them out, let me know how they go in the comments! If you have any of your own ideas, also let me know below! If it's not evident yet, I love to share ways to live an eco-friendlier lifestyle! 🙂
Until next time!